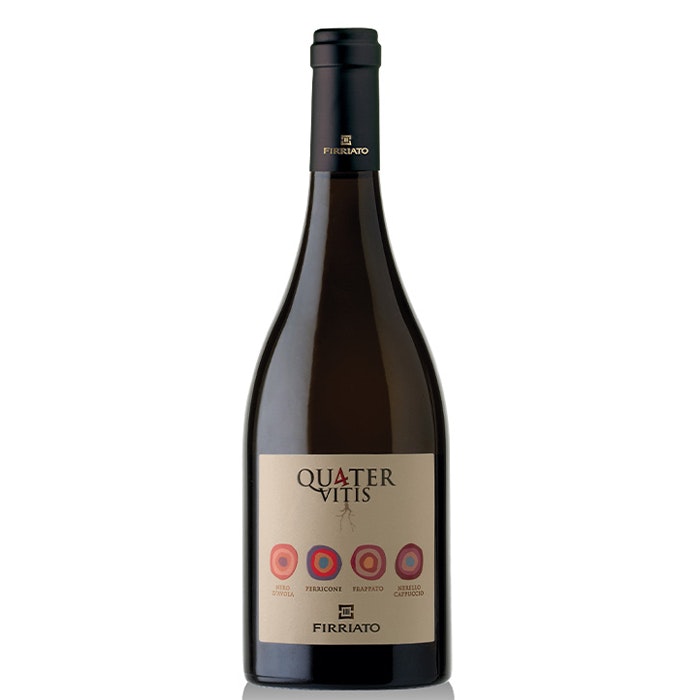 QUATER VITIS Rosso 2016


Appellation
IGT Terre Siciliane

Grape variety
Nero d'avola, Nerello Cappuccio, Perricone, Frappato



Info
Contains Sulphites - Product of Italy
Tasting notes
COLOR
Intense and dark ruby red with lively shades of purple.
NOSE
It affords marvelous and intense hints of cherries soaked in alcohol, blackcurrants and bilberries that alternate with hints of chocolate, pepper, blond tobacco, and cloves set against a balmy and minty backdrop.
PALATE
Fleshy and dense, it overwhelms the taste buds with sure confidence seducing them with the great fruity body, vibrant and powerful acidity and an array of noble, extremely fine, soft and caressing tannins.
Pairings
Important cardoons and salvaggina, medium / long-aged cheeses, cured meats and butchery
Why we like it
Quater Vitis Rosso encapsulates wine-rich Sicily in a glass. It is a blend of Nero d'Avola, Perricone and Frappato grapes grown on the Pianoro Cuddìa estate, with Nerello Cappuccio grapes grown on the Cavanera Estate at about 680 metres above sea level on Etna. It comes from four different grape harvests, followed by as many separate vinifications which all enhance the uniqueness of each single variety. Each single wine is aged in American and French oak, for a maximum of 10 months. The different woods give different wood notes that unite in nuances of vanilla. The best cuvees obtained from this then undergo assemblage, giving life to this wine which harmoniously enhances the fragrances of red fruit from the Nero d'Avola, the freshness from Frappato, the spicy notes of Nerello Cappuccio and the elegance of Perricone.